We're heading into warmer months, and it's time to make the switch from heating to AC.  If you still haven't ditched your window air conditioning units, make this the summer you finally invest in a new (and improved) HVAC system.
If you need some convincing, check out our 9 reasons for abandoning your AC units below.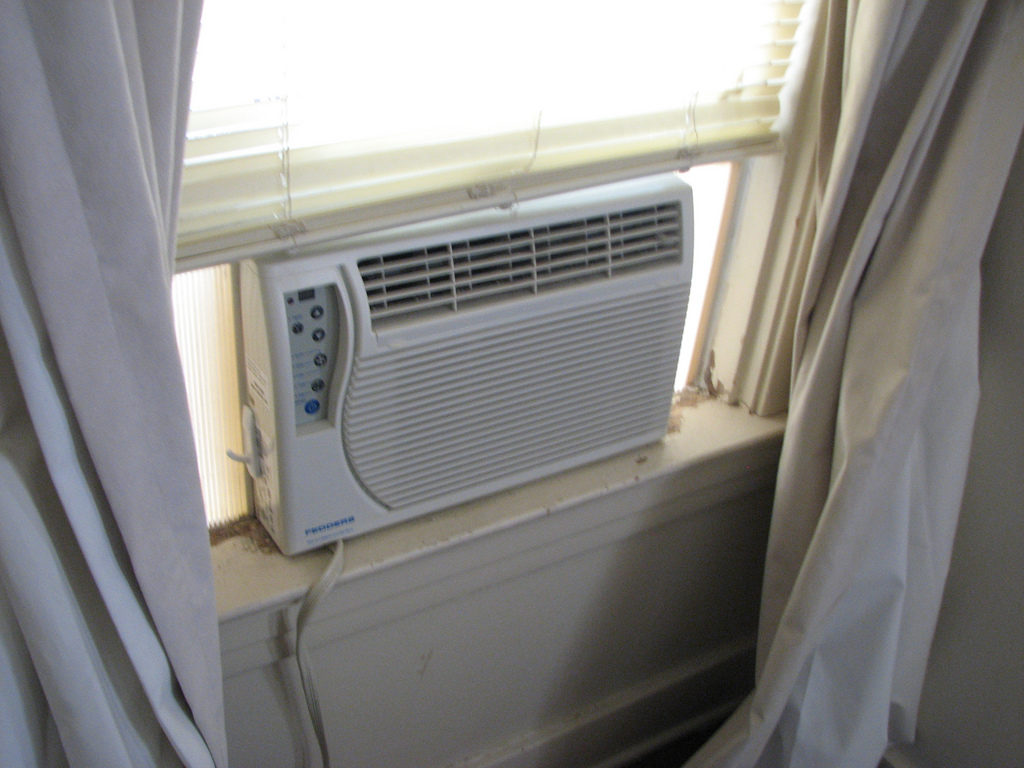 You might hurt yourself.  The latest LG air conditioner for 15,000 BTUs weighs 110 pounds and the 5000 BTU version weighs 40 pounds.  That might not sound that bad but it's the awkward shape of the unit that gets you.  Carrying a unit can put a lot of stress on the back muscles and occasionally you might bump into a door jam that will hurt your knuckles or damage the door jam.
They block a window.  When you put your AC into the window, you'll be missing out on natural light and won't be able to open up the window for fresh air on a nice day.
They don't look good.  These have never been an attractive appliance, whether you are viewing it from inside or outside your house. Plus, it's rare that people still have these window units, so if you still have one, it is likely an eyesore.
They are less efficient. Depending on the size of your home, you'll likely need multiple units to keep cool and comfortable. Think of it like running six small car engines to power a tractor trailer.  It's more efficient to do all the cooling with one air conditioner and then run it through the house. Plus, sometimes the panels that come with these units let hot air from the outside in.
You create a security risk. While you can take precautions to better secure your window and protect your home, it's not unheard of to have burglars enter a home by pushing in an AC unit.
You risk damaging your home (or your unit). When you open a window and screen, you create some risk. If you don't have the unit properly placed, it could completely fall out of the window.
They make noise.  Maybe you enjoy the constant hum of your air conditioner. But try turning it off and you'll notice that you can hear music, your TV, and your own voice so much better.
They take up storage space.  A high velocity unit or regular air conditioner will take up room too, but those units can be tucked away somewhere that was hard for you to store stuff in anyway. Window units take up prime storage space.
Your AC isn't distributed well. We all are guilty of turning up the AC in the bedroom and sleeping in cold temperatures. But having to control the temperature in each room is inefficient and inconvenient. Will you miss running up to your bedroom just to turn on the air conditioner?  How about that really hot trip to the bathroom in the middle of summer?  It is nice to have control over the AC throughout the house in one place.
If we haven't convinced you yet, you should also think about the fact that many of these AC units require regular maintenance, cleaning and replacement. When you have an HVAC company install your air conditioning system, you can rely on a professional to install and regularly service your system.
The Best Solution: High Velocity Air Conditioning
A lot of homes with radiator or baseboard heat still use window units because the cost of running duct work throughout the house for central air is substantial. New high velocity duct work is a great fit for these older homes because the duct work is so much smaller and is more easily installed. These central air conditioning systems providing even and effective temperature control without sacrificing floor space or aesthetics. If you are curious about how much it would cost to install a high velocity system in your house, contact us for a free estimate.