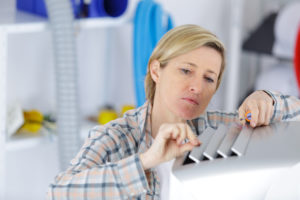 Now that your windows are closed, and your AC is on, it's the perfect time for a cooling system refresher! Let's talk about some common AC myths so you can sustain your cooling unit and live comfortably:
Myth 1: "It's a waste of time and money to have your air conditioner serviced."
Think about how much time your AC system has sat idle-probably about 8 months, collecting dust and debris! Although you only rely on your AC for a few months, it's important to consider preventative care, especially at the beginning of the hot season. By incorporating ongoing AC maintenance you're making a responsible choice that could extend the life of your cooling equipment and prevent a major breakdown.
Myth 2: "Routine HVAC maintenance is costly."
Now that you are considering a maintenance plan, you might have heard the falsehood that routine maintenance isn't worth it; however, imagine how costly it can be to purchase an entirely new system due to a breakdown issue that could have been avoided. An energy efficient AC model is a major financial investment, which is why it is a commitment to maintain your system for its lifespan. We understand how important it is to sustain your AC unit, which is why we offer preventative maintenance. Learn more about why a service plan is necessary.  
Myth 3: "It's ok if you forget to change the air filter."
So now you're probably thinking preventative maintenance is a smart choice. One of the many bonuses of preventative maintenance is you won't have to stress about when you last changed that darn air filter! You can relax knowing that we adhere to the correct service protocols in order to optimize and protect your AC system. It can be hard to remember all the procedures that go into maintaining an AC unit, but air filters are an important component to providing healthy air and extended performance. A dirty filter will trap dirt and dust, meaning you will be breathing unclean air and your ventilation system will be working twice as hard to produce results. Considering cooling services? Check out our latest offers.
Myth 4: "It's best to keep the thermostat at the same temperature all day."
It's a common misconception that keeping your thermostat set at the same temperature is the best way to reduce energy and wear and tear on your unit. However, keeping a steady temperature uses more energy than turning your thermostat down when your home is vacant. If you are serious about wanting to save energy and money, a programmable or Wi-Fi thermostat is the answer. Want to learn more about the advantages of this technology? Read up on the advantages of programmable thermostats.
Myth 5: "I don't need to worry about my AC unit in the winter"
Many homeowners assume that an outdoor AC unit is built to endure winter conditions, although you may be running the risk of shortening your appliance's health if you don't consider caring for your equipment in the off-months. Our technicians can assess the best course of action for your unit in one simple visit. Get tips for winterizing your HVAC unit.
If you'd like to learn more about how you can get the most out of your equipment, don't hesitate to contact us. We offer a wide variety of HVAC products and a reliable staff that is committed to customer satisfaction.