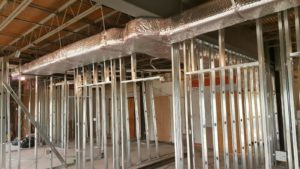 At Borden Heating & Cooling, our HVAC services aren't limited to residential customers. We also work with commercial clients on everything from new construction to fit outs. Whether it's a small office or industrial complex, we have the knowledge and experience to repair or replace any heating or air conditioning unit on your property. To extend the life of your equipment, we highly recommend following our air conditioning and heating maintenance service plans.
Some of the benefits of our preventative maintenance plans include the following:
Priority scheduling
Improved energy efficiency
Quietest operational sounds
Performance checks
Superior comfort
Better air quality
Fulfillment of warranty stipulations
Lower monthly costs
Extended service life
Reliable performance
See below for photos of a recent commercial HVAC project. If you're interested in hiring Borden Heating & Cooling for your own commercial HVAC, simply fill out our contact form and we'll get back to you shortly.